Ms. Chieko Nohno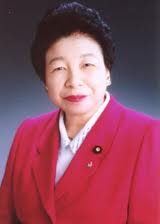 Former Minister of Justice - Japan
Ms. Chieko Nohno (南野 知恵子 Nōno Chieko?, born November 14, 1935) is a Japanese midwife and politician. In some English-language Japanese newspapers her family name is romanized as Noono.

She was born in Manchuria in 1935 and moved back to Kagoshima at the end of the war. She graduated from Kagoshima Konan High School in 1954 and attended the School of Midwifery attached to the Medical Department of Osaka University. Nohno worked as a nurse-midwife for more than thirty years before beginning her political career.

She was first elected to the House of Councillors in 1992, reelected in 1998 and 2004. In 2001 she served as the Vice Minister for Labor for just half a year. Prime Minister Koizumi appointed her Minister of Justice on 27 September 2004. . She is only the second woman to serve in the position. The first was Tachiko Nagao, who served for just ten months in 1996.
Nohno has spoken out in favor of immigration and assimilation of immigrants into Japanese society.

Ms. CHIEKO NOHNO has also devoted most of her life for the health of women and children not only for Japan but also for Vietnam . She is the FOUNDER of the Vietnamese Association of Midwives ( VAM) and she has accompanied VAM from the the establishment of the association till now .