Frances Day-Stirk
President International Confederation of Midwives
Frances Day-Stirk was elected as President of the International Confederation of Midwives (ICM) in June 2011, following a three-year term as Vice President.
A midwife for over 30 years, Jamaica-born Frances received her professional education in the United Kingdom, having initially trained as a nurse. Her experience spans midwifery clinical practice, education and maternity service management.
She is a member of the Executive Management Team of the Royal College of Midwives in the United Kingdom, holding the post of RCM Director of Learning Research and Practice Development.
Her professional interests include organisation of maternity services, homebirth, promoting normality, new born care and global maternal and newborn health safe motherhood. She has published widely and presented at conferences locally, nationally and internationally.
On a personal note she has three children who were all born at home.
ICM is the sole voice representing over 250,000 midwives globally, with 108 midwifery association members in 98 countries. It is an accredited international non-governmental association. Frances plays an active lead role in the governance of ICM. Along with members of the ICM board she holds responsibility for its development, viability and achieving its mission.
January 2012
E-mail: President@internationalmidwives.org
Professor Nguyen Viet Tien
Vice-minister of Health - MOH Vietnam
Born in 1958. He is the most famous OBGYN doctor in Vietnam. He is now the Director of the National OBGYN hospital and Vice Minister of Health. He is also the President of the Vietnamese Association of Obstetricians and Gynecologists .He has devoted most of his life for the health of Mothers and Newborns and their families. He has strongly supported the Vietnamese Association of Midwives in all activities to improve the status of Midwives and Midwifery Care.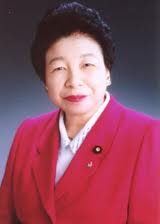 Ms. Chieko Nohno
Former Minister of Justice - Japan
Ms. Chieko Nohno (南野 知恵子 Nōno Chieko?, born November 14, 1935) is a Japanese midwife and politician. In some English-language Japanese newspapers her family name is romanized as Noono.

She was born in Manchuria in 1935 and moved back to Kagoshima at the end of the war. She graduated from Kagoshima Konan High School in 1954 and attended the School of Midwifery attached to the Medical Department of Osaka University. Nohno worked as a nurse-midwife for more than thirty years before beginning her political career.

She was first elected to the House of Councillors in 1992, reelected in 1998 and 2004. In 2001 she served as the Vice Minister for Labor for just half a year. Prime Minister Koizumi appointed her Minister of Justice on 27 September 2004. . She is only the second woman to serve in the position. The first was Tachiko Nagao, who served for just ten months in 1996.
Nohno has spoken out in favor of immigration and assimilation of immigrants into Japanese society.

Ms. CHIEKO NOHNO has also devoted most of her life for the health of women and children not only for Japan but also for Vietnam . She is the FOUNDER of the Vietnamese Association of Midwives ( VAM) and she has accompanied VAM from the the establishment of the association till now .